Welcome to the world 'Danny' born 19th June - wonderful home birth thanks to Water Baby Birthing Pool Hire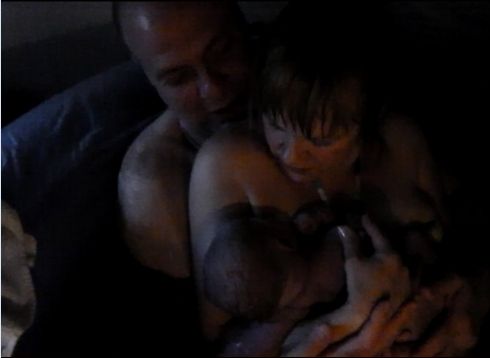 Pregnancy2Baby product reviews for Playtex Nurser Bottles and Drop in LIners - please click here


---
---

Getting ready for Christmas - 17/09/2013

This Christmas Cake recipe is great and so easy:-

Ingredients:-

1lb 9oz mixed fruit
3oz cherrys
7 1/2oz plain flour
1 level teaspoon mixed spice
1 level teaspoon cinnamon
6oz butter
6oz soft dark sugar
3 large eggs
5/6oz sherry/brandy

Equipment needed:-

7oz cake tin
Cardboard from wrapping paper
String
Lining paper for inside of cake tin

Method:-

Soak fruit in sherry/brandy for 24 hours.

Turn oven on to 140 degrees

Cream the butter and sugar together. Gradually add eggs, with spices and flour. Add fruit and mix well.

Line the sides and bottom of the cake tin.
Gently pour your cake mixture into the cake tin.
Take your cardboard and wrap it round the outer side of your cake tin, cut of some string and tie round your cardboard to hold in place.
Place a further piece of cardboard balancing on top of the tin, carefully put tin into oven for 3 hours and then turn oven down to 120 degrees for a further 45 minutes.
Test with a skewer to make sure cake is cooked.

When cake is cooked, leave to cool down before attempting to take out.

---
---
Available in October 2013 Playtex Nurser Bottles and drop in disposable liners:-

3 x White Bottles
5 x White Bottles
Single Bottles in Green, Blue, Yellow and Pink
50ct Playtex drop in liners

---
---

In a clinical study among colicky babies, 8 of out 10 mothers reported that babies using the Drop-Ins™ System showed less signs of colic, fussiness, crying, and discomfort than leading competitors.

Used by mums for generations, this unique bottle system is clinically shown to mimic breastfeeding which makes it perfect for breastfeeding mums who also want to bottle feed.* It's easy and convenient liners ensure a fresh, pre-sterilized bottle at every feeding. That helps mum to relax and know her baby is taken care of.

The Playtex® Drop-Ins® Premium Nurser Bottle features holders and pre-sterilized, disposable liners that collapse to keep air out of the bottle and your baby's system. After each feeding, the liner is discarded, so there is one less thing to clean.

---
---

It has been revealed that Harry and Amelia were the most popular first names for babies in England and Wales in 2012 - taking the top spots for the second year running. Riley was a new addition to the top 10, while Muhammad was the favourite name for boys born in London. Does your little one's name feature in the Top 10?

Top 10 Boys Names
1. Harry
2. Oliver
3. Jack
4. Charlie
5. Jacob
6. Thomas
7. Alfie
8. Riley
9. William
10. James

Top 10 Girls Names
1. Amelia
2. Olivia
3. Jessica
4. Emily
5. Lily
6. Ava
7. Mia
8. Isla
9. Sophie
10. Isabella

---
---
---
---

Allergy Labels
Does your child suffer from an allergy? Our Fab and Funky Allergy labels are a great way to alert teacher and carers of allergies and prevent reactions. They are dishwasher, steriliser and even microwave proof.

Price = £19.95 – Pack of 40 labels.
USUALLY DISPATCHED WITHIN 5 WORKING DAYS

---
---

Back to School Name Labels and Tags. Now is the time to purchase your ID labels and Tags:-

Snappy Tag Crocodile
Keep tags on their clothes! We laser etch the name you require onto the Snappy Tags and you apply to the clothing in a single click using the Crocodile Applicator. Prices start from low as £9.95 for 25 Snappy Tags and Backs.

Stick Easy's
StickEasy clothing labels are the simplest and quickest way of labelling all types of clothes. Prices start from low as £8.95 for 60


---
---

SnuggleBundl:-
This product is amazing and so versatile.

---
---

Come and find us at Eddie Catz in Newbury 11th September 2013. Baby sensory day http://www.eddiecatz.com/workshop-detail.php?e_id=432


---
---

Visit bounty.com for essential pregnancy advice and week-by-week information for the whole nine months. We'll be with you every step of your pregnancy, from morning sickness to the first signs of labour. Get practical support for life with a newborn, with expert advice on crying, feeding, sleeping and more. Then, as your baby grows find help on everything from baby skincare to teething, weaning and when to expect rolling, crawling, first steps and first words. Plus some great offers and discounts to help make family life easier.